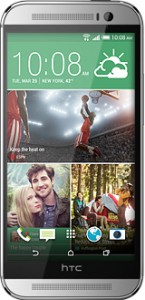 The HTC One M8 is here. HTC One One M8 is the latest phone that is ready to compete with Apple's iPhone 5s and Samsun Galaxy S.
HTC One M8 runs on Android 4.4 KitKat powered by Qualcomm Snapdragon 801 2.3GHz quad core processor and has 2GB of RAM, in either 16GB or 32GB of storage. HTC One M8's storage can be increased up to 128GB expandable microSD card storage.
HTC One M8'sbattery has 2600 mAh capacity, should be good for up to 20 hours of 3G talk time, or up to 496 hours of standby on a 3G network.
HTC One M8 is available from all major networks for $199 with two year contract. The HTC One M8 is on sale online from AT&T, Sprint, Verizon and Best Buy. Only Verizon has the phone in store until April 9, only Verizon will sell the device in stores. Here is a round up of the reviews of HTC One M8 from the major tech blogs.
Ars Technica: An unambitious update to a premium smartphone
The good

Best-in-class materials and build quality. Easily the most premium feeling Android phone out there.
Fast internals and great battery life.
The smooth, rounded edges are a nice improvement.
Double-tap-to-wake makes waking the phone super-easy.
The best speakers on a smartphone, though that's still not saying much.
The added MicroSD slot will make cloud-averse digital packrats very happy.

The Bad

A dull, dreary 4MP camera that produces washed-out photos and removes OIS.
The power button placement makes it very difficult to put the M8 to sleep.
Huge bezels that make the M8 bigger than it needs to be.
Tons of carrier crapware.

The Ugly

HTC's extra camera does nothing but add poorly executed gimmicks. Useless software features are one thing, but useless hardware adds cost and complexity for little benefit.
The Good The HTC One M8's sumptuous aluminum body makes a beautiful background for this top-flight smartphone's brilliant 5-inch display. It runs on a powerful quad-core processor and Android KitKat, the stereo speakers deliver excellent sound, and the depth-sensing camera brings a ton of useful features.
The Bad The One M8's battery is not removable, making it harder to replace once the battery inevitably wears out. The phone's sealed chassis is not water-resistant, and the One M8's photos look less sharp than competitors'.
The Bottom Line Elegant style, raw power, and sophisticated features make the HTC One M8 an excellent smartphone choice for anyone but the most exacting photographer.
Even still, the new HTC One is the best all around Android smartphone the world has ever seen.

It's beautiful. It's different. It's better.
8.5 VERGE SCORE
GOOD STUFF
Gorgeous industrial design
Great performance
Solid battery life
BAD STUFF
Weak, inconsistent camera
Big, a little chunk
The new HTC One seems like a solid improvement on the original, and that should be enough to make it a great phone, if not the best Android smartphone available. Releasing it the same day it's announced is a bold move, and should help it win over some early adopters who were on the fence between this and the Samsung Galaxy S5, which comes out April 11 in the U.S., but only time will tell whether HTC hit the home run it needed with its latest device