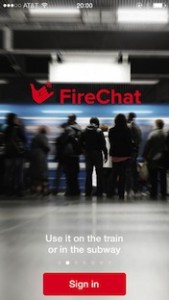 FireChat, a magical app for iOS devices that lets you chat with others when there is no Wi-Fi or Data connection. It does sound too crazy to believe right?  Check out Wired Magazine has a piece on FireChat and its potential.
FireChat uses a new Apple technology that is available in iOS devices running iOS 7. iOS 7 has Multipeer Connectivity framework and this peer-to-peer framework lets users share messages with other app users nearby, irrespective of of whether you have Wi-Fi or cellular connection. FireChat allows each device to connect directly to other devices nearby using Bluetooth, peer-to-peer Wi-Fi, or traditional Wi-Fi networks. Since one is connecting directly with other users, one does not need have Wi-Fi or data connection. Crowd sourcing connectivity using people's smartphones and tablets.
The key features of Firechat include
• Instantly message anyone around you on iPhone, iPad or iPod touch, • Chat and share photos with one person or with a group, • See what people are talking about everywhere, or create conversations that only people near you can join, • Works even without any Internet connection or any type of mobile coverage • "Nearby chat" works best within 30 feet of your location • Easy: no Facebook or email login, no password to remember, • Use it at home or when traveling anywhere in the world,
FireChat app is developed by the team behind Open Garden based in San Francisco. Open Garden is founded by Micha Benoliel, Greg Hazel, and Stanislav Shalunov. The Open Garden team has a family of apps ready for iOS and Android devices, including
Open Garden -for Android: to improve internet connection by using Bluetooth, WiFi, and 3/4G at the same time.
WiFi Opener - for Android to allow to automatically connect to password protected networks shared with the community.
WiFi Keychain - for Android to keep your Wi-Fi network information up to date across all of your devices.
WiFi Hotspot - for Android to giver a timer for your personal hotspot to save battery life
And it has wonderful mission that is a must read.
Fixing the mobile Internet. Together. More than 3M people use Open Garden today. By joining Open Garden, you are joining forces to make the Internet better, faster and more reliable – for everyone, including yourself. Open Garden allows all devices (including smart phones, tablets, laptops and "wearables") to work together and find the best connections at any time. The more people use it, the better it gets.
Hi.. Facebook are you talking to the FireChat guys already? Open Table is hiring now to work on peer-to-peer overlay wireless mesh network that provides Internet access. If you are interested in working for Open Table, solve the following puzzle and contact them.
The 2010 Census puts populations of 26 largest US metro areas at 18897109, 12828837, 9461105, 6371773, 5965343, 5946800, 5582170, 5564635, 5268860, 4552402, 4335391, 4296250, 4224851, 4192887, 3439809, 3279833, 3095313, 2812896, 2783243, 2710489, 2543482, 2356285, 2226009, 2149127, 2142508, and 2134411. Can you find a subset of these areas where a total of exactly 100,000,000 people live, assuming the census estimates are exactly right? Provide the answer and code or reasoning used.
Visit the App Store to download FireChat for iOS devices.