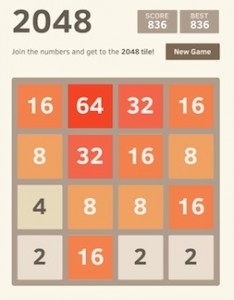 If you have not heard about 2048, one of the most addictive games, it is not too late. 2048 is a very simple game to get started.  You will see a 4×4 grid/cells and all you need to do is "Use your arrow keys to move the tiles. When two tiles with the same number touch, they merge into one!"
And for every move a tile is randomly populated with 2 or 4. And the goal is to create the number 2048 by merging numbers on tiles. Although it is easy to start, winning the game is difficult. After certain point, you will left with no empty cells and the game will be over.
Visit http://gabrielecirulli.github.io/2048/ from your computer and start having fun.  If you want to play from your mobile use this link
There are other apps for Android and iOS devices, but they are all fake apps, not from the original creator Gabriele Cirull.
Who is behind the game 2048?
Gabriele Cirull is a 19 year old UI Designer and developer from Italy. The game 2048 was inspired from 1024 by Veewo Studioand and Threes by Asher Vollmer.  It all started with this tweet by Gabriele Cirull on 9th March.
I just released a little game I built called 2048. Check it out! http://t.co/CFB5xzmmCA

— Gabriele Cirulli (@gabrielecirulli) March 9, 2014
And it all got viral as it got picked up by the Hacker News and this is how the creator of 2048 reacted.
The response to #2048game is unbelievable! I'd have never expected something like this to happen! pic.twitter.com/xdVQxrirFO

— Gabriele Cirulli (@gabrielecirulli) March 10, 2014
Now 2048 is a rage.